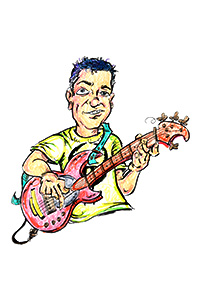 It is with great sadness that we announce that a treasured member of the Camera Bits family, Bill W. Kelly, passed away unexpectedly last Sunday, July 4th at his home in La Jolla, California. He is survived by his wife Liz Kelly and his father Guy Kelly. Bill was set to turn 50 this August, but he was taken away from us and his family at an unjustly early age. He will be missed dearly for his sharp intellect and unbounded creativity, alongside his savvy humor peppered with rapid meme comebacks.
Bill joined Camera Bits as an early founder in 2003, shortly after his longtime friend Kirk Baker had started working at Camera Bits. The two first met in 1986 when Kirk bought a used AmigaDOS handbook from Bill, and they soon struck up a long-lasting friendship built around coding and playing guitar and bass most excellently. Both worked together at FTL Games, New Level Software, and Encyclopedia Britannica.
Bill was a gifted software engineer with no formal computer science education beyond some core C++ classes. His ability to focus on a problem and find a novel solution made him an invaluable member of any organization that was lucky enough to employ him. In addition to critical software components that make complicated software tick, Bill designed the catalog database system in Photo Mechanic Plus. Along with Kirk, the "Catalog" was realized and is a testament to how two smart friends can create something that is beyond the simple sum of their beings.
On behalf of all of us at Camera Bits, we offer our deepest condolences to all that knew Bill Kelly for the loss of a soul buddy. May he rest in peace.