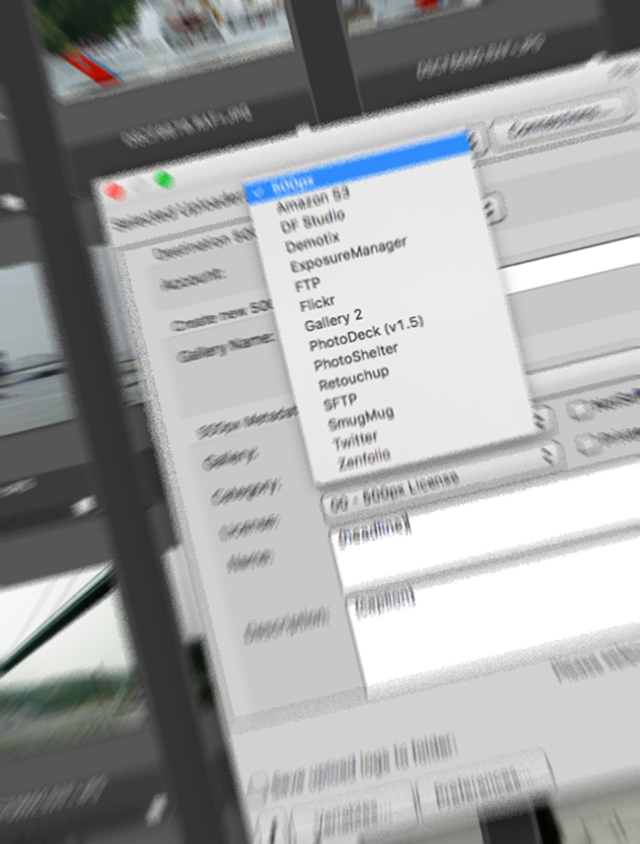 Did you know that Photo Mechanic uploads to these sites?
Did you know that Photo Mechanic can upload directly to some of your favorite websites? Whether you want to send to your clients, sell your images, etc, Photo Mechanic is made to work seamlessly with the other tools in your workflow. After you cull and add metadata to your photos in Photo Mechanic, you can send them to a number of different places with just a few clicks.
The process is simple. First, you'll need to set up and connect your preferred sites. In Photo Mechanic, click the globe uploader icon in the upper right-hand corner (see photo), or use the keyboard shortcut "CMD + U" (for Mac) or "CTRL + U" (for PC). Once you've done that, choose your preferred uploader from the drop down menu and click on "Connections". Follow the steps to link your account.
Once your account has been linked, you can select the images you want to export and use the shortcut "CMD/CTRL + U" to send them. You can also right-click on an image, or a selected group of images, and choose "Upload" from the pop-up window. If you have any questions, feel free to contact the Tech Team at support@camerabits.com!
Check out the sites below to see how you can better streamline your workflow between Photo Mechanic and other tools you work with.
Amazon Simple Storage Service (S3) is a web service made for storing your images online.
DF Studio is a cloud-based solution for professional photography management and workflow. It has features for organization, collaboration, storage and delivery of your photography assets.
Exposure Manager helps photographers run their business online by providing online proofing, print fulfillment, invoicing, and more.
Flickr is an online community and image hosting website for photographers to share and embed their own images.
PhotoDeck offers websites designed for photographers. It can be used for portfolios, secure client galleries, and e-Commerce websites.
PhotoShelter also offers websites for photographers. They're made for showing, selling, organizing, and delivering images to clients or social media.
RetouchUp provides retouching services for professional photographers. They work behind the scenes to help give photographers their time back.
SmugMug is a paid photo-sharing website and image hosting service which allows users to upload both HD photos and videos to their SmugMug sites. They also offer a service that helps users sell their digital and print media for photographers.
Twitter is an online news and social networking service where users can post messages called "tweets" in 280 characters (as of 2018) or less. Users can post tweets with photos, video, URL's or text. Twitter is a source for breaking news and social sharing.

Don't see the site you're looking for? Send a message to our developers in the forums to request it.